Hurricane Ian was the deadliest to strike Florida since the famously catastrophic 1935 Labor Day hurricane. With wind speeds that reached 150 mph, the 2022 hurricane left a trail of profound devastation—and the people caught in that trail are now fighting to rebound and rebuild. Leveraging the combined expertise and resources of GAF and Standard Logistics to assist affected locals, GAF is proud to be part of the efforts to provide relief to those who need it most.
GAF made initial preparations to support employees and their families in anticipation of Hurricane Ian's forecasted direct hit on Tampa, FL — one of their plant locations. This was done using valuable experience gained following Hurricane Florence in 2018, which had severely affected another GAF plant location — Burgaw, NC. Once it became clear that Tampa had been spared the worst, GAF quickly pivoted to determine how they could apply support and provisions to their best use. This preparedness and fast pivot meant that GAF's emergency Hurricane Ian relief provisions were among the first to reach the devastated Punta Gorda, FL community. One resident shared, "What you guys did has already had a huge impact. People thought they were coming for a hot meal and received ways to rebuild along with basic necessities that they haven't had or known when they would. It was huge — there were A LOT of tears. YOU and your company made it happen and gave people hope."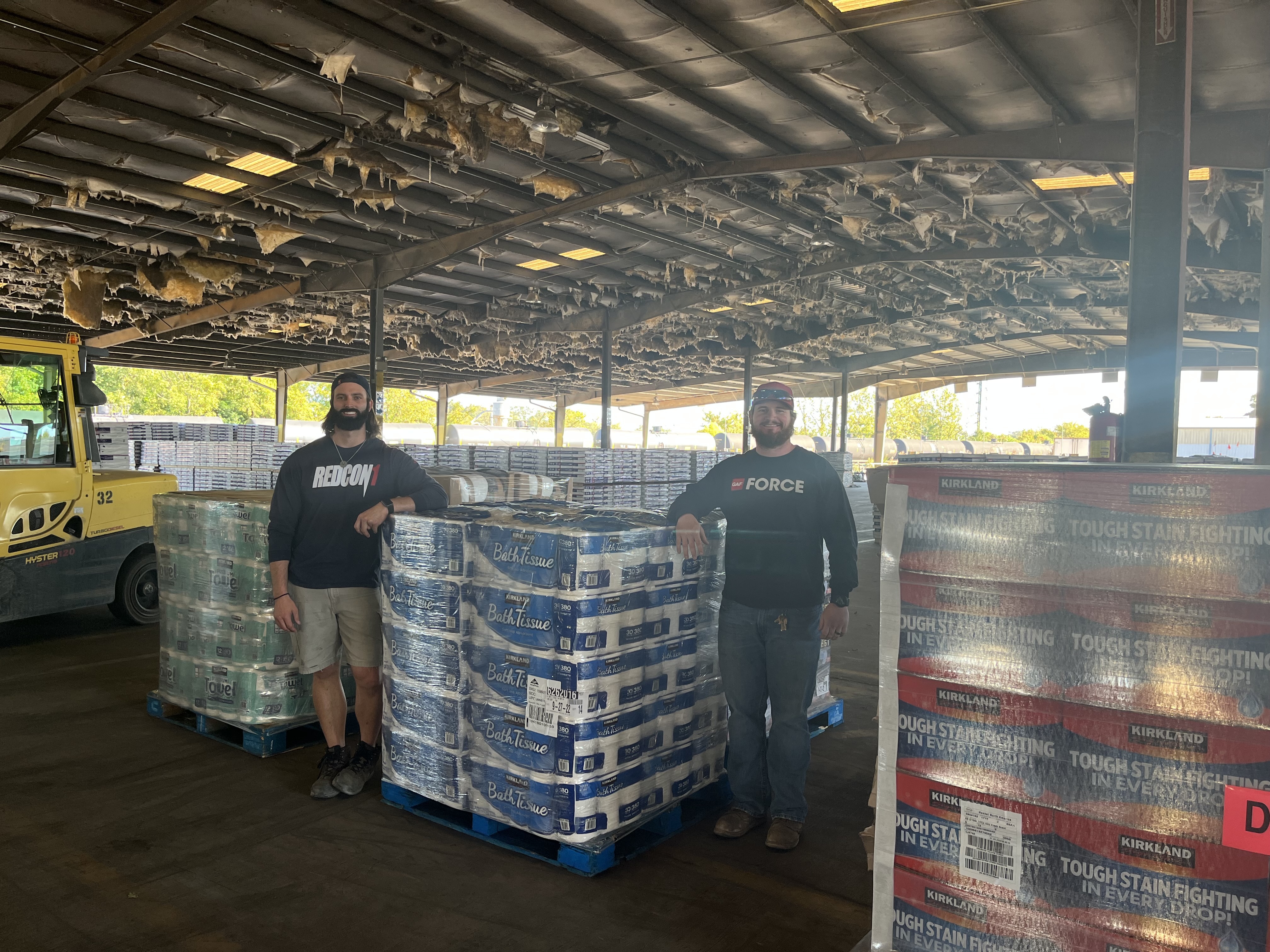 Team members Hunter Johnson and Matthew Humphries standing with supplies that were sourced to support community members impacted by the storm
Fueled by Collaboration and Dedication
Community and service are priorities for GAF. In the wake of Hurricane Ian, this commitment could not be more relevant. Over the past month, GAF has made deliveries of Hurricane Ian relief items to impacted areas, assembling dedicated teams to gather everything from non-perishable foods and personal items such as clothing and toiletries to power generators and water pumps.
With 20 years of purchasing sourcing and procurement under his belt, Andrew McKeown, Director of Operational Procurement, understands the importance of being proactive and moving fast. The members of his team had all hands on deck to purchase and assemble relief supply deliveries as quickly as possible. Also, using their 2018 experience with Hurricane Florence, the team had the foresight to start collecting high-demand items before the hurricane hit. Not surprisingly, that forethought paid off: "I went and checked availability of the same generators and water pumps a week later, after the hurricane, and they were sold out," he explains.
Andrew emphasizes the importance of his team. "If it wasn't for other people stepping up, and other people taking on roles they don't normally take, this never would have happened. It happens with a team. That's the only way this happened. The teamwork allows us to help the people who really need it."
Jumping into Action
When disaster strikes, there's little time to plan. With GAF's Tuscaloosa facility serving as the hub, the team worked together to pinpoint locations in need for rapid deployment, coordinating with Standard Logistics to make it all happen. With remarkable speed, Standard Logistics got trucks loaded and dispatched. Harvey Brown, Area Manager for the Southeast, remarks, "The drivers are warriors with those quick turnarounds."
In these circumstances, the best-laid plans can change at any minute. The ability to adjust on the fly has been key to combating delays and last-minute changes. At the last minute, the right trucks sometimes weren't available, or the deliveries took longer than expected. Despite these unexpected challenges, the team found purpose and motivation in overcoming them. Brian Thrasher, a Supply Chain Manager at the Tuscaloosa plant adds, "It was constantly changing so we had to be flexible. To be able to pull this off with short notice and get supplies turned around as quickly as we did — I was proud of our team."
Of the Tuscaloosa workers, Andrew says, "Some of this stuff showed up in their warehouse and they worked over the weekend to break it down into three or four truckloads." The drivers maxed-out on their driving hours and stayed to help unload.
Tim Rink, GAF Territory Manager for Southwest Florida adds, "Everyone's working together, no matter who or what you are." Justin Miller, Steep Slope Territory Manager for the region made the first critical contact with the Charlotte Community Foundation. His quick-thinking and creativity played a major part in helping the team distribute relief supplies efficiently to the locations hit hardest by the storm.
When a boat captain was unable to make deliveries to island communities in Florida, it was local connections that helped the team get in touch with local law enforcement and the Red Cross to make the deliveries happen. That dedication extended to an array of partners including Costco, area churches, long-time partner Good360, and many others — even competitors: "We even had a competitor call saying what we're doing is nothing short of amazing. Now that's pretty cool to hear," Tim says.
Cape Coral law enforcement steps in to help coordinate the delivery of supplies to island counties.
What's Next
Ideally there would never be a need for disaster supplies, but we know that more storms are a certainty and being prepared is key. By building on the recent experience gained from Hurricane Ian relief efforts, GAF is already working to improve the procurement and distribution of supplies, so that — next time — even more supplies can be delivered even faster. That's why, just as he nurtures relationships with roofing suppliers, Andrew McKeown is now working to develop relationships with the companies that supply hurricane relief items. Next time, he says, "I won't have to make all these calls and find out who to talk to and explain what I'm trying to do. We don't have time for that."
He's also working on creating an inventory of high-demand items, so there will be no need to source them when a future disaster strikes, helping people get on with the most important work more quickly: helping to rebuild lives. Brian reflects on what it means to give back. "Everyone in Tuscaloosa remembers what happened here about 11 years ago, when a very large tornado came through our town. There were a lot of deaths, a lot of destruction. Being on the receiving end of a storm like this when people are driving by and giving you water… you understand the urgency and the need. And the thankfulness. Having been on the receiving end, the clean-up end, you're thankful for everything people send."
Bringing our Values to Life
When Harvey joined GAF this past spring, he had never heard of GAF. What he has come to appreciate even more through this experience is GAF's commitment to protecting what matters most: "You hear all the talk, you've heard it all before but here, you hear it — and you see it. We're living it."
What's been made clear is that everyone is all in and no one person can claim credit. "It happens with a team," says Andrew. None of this is possible without the team mentality. For Tim, it's all about taking care of people and keeping that perspective. "I've always been a giving person, but the impact of what GAF has given us to help people is amazing."
Looking Ahead
With the final shipments delivered, thoughts are already percolating on how to prepare for the next disaster. "We already have the relationship. What I'd like to see is maybe have things like generators and water pumps already stored away. We lucked-out getting in front of the power curve, but we might not be so lucky next time," Andrew says.
Harvey also reinforces the need to take care of each other in times like these. "We need to ensure team members in affected areas are also safe and have the resources they need." Preparedness plans should also think beyond the aftermath and consider the long-term impacts that communities face. The team has proven we not only have the capability but a strong desire to support and help renew our communities as they continue to navigate the enduring effects of both this storm and those storms we will face in the future.
Thank you to Harvey Brown, Andrew McKeown, Tim Rink, and Brian Thrasher for taking time out from the active relief efforts to share their perspectives, and to the entire team who continue to make a tremendous impact for our communities.
Learn more about GAF's commitment to the communities where they live and work at gaf.com/communitymatters.